26 January, 2006 at 8:14 am by belgianwaffle
In other
news, the Princess skipped off early to school today for gym (or pyschomotricité as
it is known in the language of diplomacy and romance, you might note
that it
may not be spelt that way).  She has no idea what it is, but she
is all excited,  I hope that she is not in for a bitter
disappointment.
Comments
Peggy
(Homepage)
on 26 January 2006 at 09:49
Bet the plumber was hoping you'd still be in bed… breastfeeding one or two babies.
Ok, I'm out of here.
Friar Tuck
on 26 January 2006 at 16:23
Maybe you could give the plumber one of yours as payment. After all, you could always make another. A win-win situation if there ever was one.
kristin
(Homepage)
on 26 January 2006 at 19:37
but tell us about the new fridge! is it nice? and pyschomotricite indeed. good lord. quite a step up from Circle Time.
on 27 January 2006 at 09:12
Hello CACOchyme, encore un Belge, the excitement. In fact, I was very pleased with the plumber and frankly half an hour late isn't really very late but he did cost me, sharp intake of breath, 142 euros.
Peggy, hmmm, you go and stand with pog in the coin colere.
FT, would have been insufficient to defray substantial costs.
Oh yes, Kristin, no circle time for us, humph. Fridge is fab and much bigger than last one. Mr. W. says it's just a fridge. Pah.
0
Sweetie(s) given    
]]>
25 January, 2006 at 8:44 am by belgianwaffle
When we
were down town, we saw a woman and her daughter begging.  The Princess wanted to know why they were
sitting on the pavement and I said that they were poor and begging for money.  I explained that not everybody was as lucky
as us with a nice house and plenty of food to eat and nice clothes and
toys.  The Princess was fascinated.  On the tram on the way home, she kept pointing
at people and saying, very distinctly (and accurately), "I think he's poor Mummy".  Then she said to me "Mummy, you know, there
are a lot of poor people at my school".  I
see social death approaching.  Mind you,
itÂ's not like IÂ've made friends with a lot of the mothers and fathers.  I keep smiling in a hopeful way but they keep
ignoring me.  Yesterday, this woman was
collecting her daughter who is in the PrincessÂ's class.  She has twin boys!  Who are four months old!  What a coincidence, would you like to chat
about all the things we and our daughters have in common?  Apparently not.  She cut me dead and continued talking to her
friends.  I was crushed and reduced to
thinking bad things about her poor dental work.  Also she made having twins and a toddler look
very easy and we all know that it is extremely difficult and I am fantastic to be
coping so well.  Humph.
Comments
on 25 January 2006 at 11:53
She was probably being rude because she looks at you and wonders how she could ever in her wildest dreams cope as well as you do; clearly you make her feel inferior! (As indeed you should, given that she is a very rude lady)
0
Sweetie(s) given    
Peggy
(Homepage)
on 25 January 2006 at 12:53
I agree with Geepeemum. And she might also think that you are another one of those rich expats.
Most important is that the Princess makes friends in her school.
on 25 January 2006 at 12:54
Don't be crushed, 'waf. People who do that sort of thing eventuually get what's due…. silly old billy old cow.
[Her. Not you.]
0
Sweetie(s) given    
on 27 January 2006 at 09:06
Pog, am sure you are right. Oooh, I like that GPM. Peggy, rich expats are people too. Sniff. Still no friends though. I suppose it has only been a fortnight.
JD, am glad you clarified that.
0
Sweetie(s) given    
]]>
You forgot to mention that Mr. W. soaks his finger in rum.
on 25 January 2006 at 08:37
Good old Daniel-thats some magic finger.
0
Sweetie(s) given    
on 25 January 2006 at 08:51
I know people (though not about the rum FT), fingers crossed and all that. Another full night for young Daniel last night.
0
Sweetie(s) given    
on 25 January 2006 at 18:58
Hurrah!
0
Sweetie(s) given    
on 27 January 2006 at 09:07
I know, Bobble, and four days later, he's still at it.
0
Sweetie(s) given    
]]>
22 January, 2006 at 2:48 pm by belgianwaffle
Is it any wonder with all this sleep deprivation, that I left the
Princess's buggy behind me at the tram stop this morning?  She was
a bit distressed but I reassured her that it would be there when we got
back.  My faith was misplaced.  Who the hell takes a 20 euro
supermarket buggy from the tram stop?  Fortunately, she is not old
enough to be embarassed by her mother inquiring in neighbouring cafes
whether anyone had handed in a buggy.  No, nobody had.
However, to restore your faith in human nature, let me tell you the
following heart warming tale.  Outside the church we go to, there
is a group of regular beggars.  The Princess and I have built up a
special relationship with one of the beggars, a very nice man, who is
always very sweet to our girl.  This morning, it was perishing and
I had forgotten to bring along a hat for her highness.  Our friend
was very concerned about this and insisted on giving her his hat. 
I was against this for a range of reasons, some of them worthy (the
poor man will be frozen, we have lots of hats at home, we can afford
more hats), some of them distinctly less so (where has that hat been
and what is the bizarre smell?).  However, my attempts at refusal
were scuppered by madam who clutched it in her little hand and clamped
it on her head.  He says that we can give it back to him next
week.  You will be relieved to know that he confirms that he has
another hat at home.
Comments
kristin
(Homepage)
on 22 January 2006 at 18:13
i sympathize deeply with the cosleeping. we have recently given up on bedtime, as such, because after 3 years, one thing we have learned is that the child will not sleep according to any schedule of our making. the new schedule involves lettting her drop off in a parental bed, where she sleeps like a lamb for 8 hours. yes, it only took us 3 years to just give in.
on 22 January 2006 at 22:38
Alas, it was a seven years stretch in our case. Ultimately disasterous. Get them BACK in that cot!
0
Sweetie(s) given    
Friar Tuck
on 22 January 2006 at 23:56
I am imagining a hatless beggar pushing a pram full of his belongings around Bxls.
on 23 January 2006 at 01:55
I just came across your blog today and you got it going! How you manage so well with 3! I only have one whose sick at the moment and can't imagine what it must be like.
You're little ones are too cute!
0
Sweetie(s) given    
on 23 January 2006 at 09:14
Phoebejo?
Kristin, BHM, I see you give conflicting advice, but I feel that there is something in what the BHM says.
FT, well, yes..
Berry, you are kind, I'd rather have 3 well ones than one sick one,hope that your mite is feeling better.
0
Sweetie(s) given    
on 23 January 2006 at 14:37
Indeed! Hope you had a better night last night chuck.
0
Sweetie(s) given    
on 23 January 2006 at 19:54
Jimi has taken to swearing in a lullaby voice when Seth snuffles awake in the wee hours. I find it oddly comforting and it sends me right off to sleep.
I wonder the damage to the poor boys psyche..
0
Sweetie(s) given    
on 25 January 2006 at 08:50
Thanks Jojo. Minks, I LOVE that!
0
Sweetie(s) given    
]]>
21 January, 2006 at 1:05 pm by belgianwaffle
Did you
know that twins suck each otherÂ's thumbs? 
Or noses, or shoulders, or whatever happens to be in range.  They weigh nearly12 kilos between them
now.  ThatÂ's a lot of baby to be hefting
round.  They are developping personalities.  Daniel is a big baby with an
amiable grin and relaxed manner who reminds me forcibly of his uncle (my
feckless brother – I foresee a lifetime of getting extra keys cut).  He looks very like his big sister and moves
like she did at his age (why should I hold my head up?  No, really, why?  I donÂ't intend to crawl until I reach 11
months).  Michael is a very different
child.  Unlike the Princess and Daniel,
he is not a bald baby (how extraordinary). 
He loves having his legs bicycled and already puts weight on his legs,
an ominous sign that he may walk early. 
Where did we get an athletic baby from? 
Unlike his older and bigger brother he believes that sleep is
for wimps
but he is a lot more amiable on his four hours a night than I suspect
Margaret
Thatcher ever was.  I, however, am finding the regime
challenging and, of course, the Princess likes to add her mite.  I am sure you can imagine the joy in the Waffle
household when after a night awake with the boys, the Princess knocked
on our bedroom door at 6.02 this morning.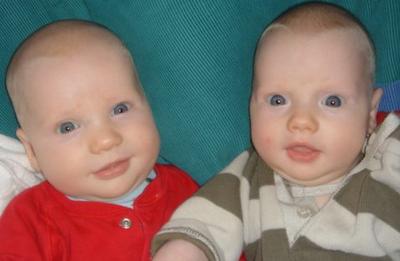 Comments
kristin
(Homepage)
on 21 January 2006 at 15:54
look at those contented visages! what happy boys they seem.
on 22 January 2006 at 14:54
Sez – afternoon nap, you say? Ha ha ha (come on, join in waffly) ha ha ha.
0
Sweetie(s) given    
on 23 January 2006 at 01:52
ahhh. So cute!!
0
Sweetie(s) given    
on 23 January 2006 at 09:10
Sez, Jojo is right as ever. Kristin, Berry, thank you.
0
Sweetie(s) given    
]]>
20 January, 2006 at 1:38 pm by belgianwaffle
Comments
on 20 January 2006 at 13:48
Fabulous – Ab Fab, in fact.
0
Sweetie(s) given    
on 20 January 2006 at 14:03
As said previously she should have her own TV show, on the fashion channel.
0
Sweetie(s) given    
Friar Tuck
on 20 January 2006 at 16:05
Move over Martha!
channah
on 20 January 2006 at 20:11
Love the Coat! She is too cute.
on 23 January 2006 at 09:09
You are all very kind and virtuous.
0
Sweetie(s) given    
]]>
20 January, 2006 at 1:36 pm by belgianwaffle
Email from
my friend D.
"Saw this
and thought of youÂ…particularly your description of bringing Princess to school
with the twins in tow, one in a sling and the other in the buggy.  I feel
that this is not a viable option into the future as the twins get bigger..http://www.magicmum.com/phpBB/viewtopic.php?t=18600
 Hope all is
ok with you.  Baby A has a cold and was awake crying from 1am to 4 am last night.  I am
shattered.  I don't know how you possibly manage with three.  In fact
I am surprised that anyone in the world has siblings at all, now that reliable
contraception is available….
Yours in exhausted bewilderment, "
You will
note her wisdom in the matter of siblings.
Comments
on 23 January 2006 at 09:08
Good Lord Kristin, how extraordinary.
0
Sweetie(s) given    
]]>
Administrative
Write